October 2nd, 2014 by sally
As part of the Frinton Literary Festival, we have organised for two brilliant authors to go into 5 local primary schools AND Tendring Technology College. This is a service that is provided free by the festival, thanks to the continued support of local sponsors and loyal festival goers. We hope this helps to promote the love of literature amongst the young people of our community.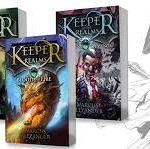 This year, we are delighted to welcome the amazing creator of children's fantasy adventure trilogy, Marcus Alexander, who will be visiting TTC, Frinton Primary and Holland Park Primary School.
After several incident-filled years of travelling the world Marcus Alexander decided to pack in all serious attempts at reaching maturity and instead embraced the much more suitable world of parchment scribbling for a living.  Marcus has a fondness for causing mischief, knows how to run really, really fast when he's in trouble and knows how to duck out of sight when someone points the long, bony finger of blame.  Find out more about him and Charlie's adventures at www.keeperoftherealms.com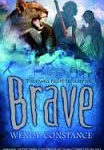 Together with local author and winner of The Times Children's Fiction Competition Wendy Constance who will be visiting Walton Primary School, Kirby Primary School and Hamford Primary Academy.  'Brave' is set 13,000 years ago. Wild Horse has been sent to prove his bravery by bringing a runaway girl back to her tribe before she's taken by wolves. But Blue Bird doesn't want to be found, and persuades Wild Horse to join her and a rescued sabre-tooth cub.  It's the greatest adventure of their lives, and they must fight with spear, tooth and claw to survive.
Category: Uncategorized | No Comments »