May 2nd, 2011 by sally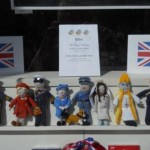 Grandma Doris from Great Bentley used the amazing best-selling book Knit your own Royal Wedding by Fiona Goble to create our very own royal wedding party.  We are raffling the whole party to raise money for Oakey Dokey's pre-school in Great Bentley.  Buy your tickets from the shop now!
This entry was posted on Monday, May 2nd, 2011 at 3:19 pm and is filed under Uncategorized. You can follow any responses to this entry through the RSS 2.0 feed. You can leave a response, or trackback from your own site.