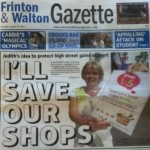 Today Judith launched her brilliant new initiative to save local shops.  Fed up with people apologizing for using a Kindle or shopping online, she decided it was time to admit that this is a necessary part of everyone's budgeting strategy.  However, with her 'Shop 1 in 5' campaign everyone could contribute to protecting our high streets across the country.
She believes very strongly that it shouldn't always be about price and if everyone makes 1 small change and for every 5th purchase makes it in a local shop it would make a real difference.  The loss of our local high streets would be devastating – not just for those in the community who don't drive or have access to a computer – but also for local employment now and for future generations.
Local shops are an essential part of the community of a town and really care about giving great personal service.  They provide local knowledge and experience and will always go that extra mile for you – often providing local deliveries to your door – not those from distant supermarket depots, so even helping the environment!  Shopping locally also saves you time and money on petrol and parking.  So please support the campaign in any way you can….perhaps you could be the one who helps it to go viral or even global!
So please – when you shop – think and buy '1 in 5' – keep our local shops alive!
A huge thank you should also go to Tendring District Council who has supported the initiative by printing all the publicity materials.