UK Independent Booksellers have shortlisted 10 Adult Titles and 12 Children's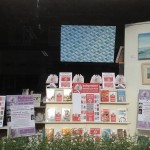 Titles for this year's IBW Book Award.  Customers are invited to review any of the titles for the chance of winning £50 of National Book Tokens.  And by way of encouragement WE are offering £1 off all shortlisted titles from now until the end of IBW – 6th July.
Our main event this year is National Reading Group Day on Saturday 29th June.  There are still tickets available, so pop in the shop for details.