AUTHOR HENRY HEMMING SIGNS HIS NEW BOOK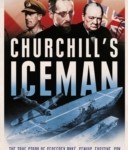 CHURCHILL'S ICEMAN: The True Story of Geoffrey Pyke: Genius, Fugitive, Spy.
Sunday 31st Sunday between 11am and 1pm at Caxton Books & Gallery
Come and meet Henry and grab a copy of his fascinating new book which will make the perfect Christmas Present – no harm in looking ahead!!
"The papers that MI5 released in 2009 have led to the discovery of a wonderful new subject for modern biography. Geoffrey Pyke was a tragic and lonely genius who attempted to plant new ideas into the unresponsive soil of Britain during the first half of the twentieth century. His final wish "to be forgotten as if    I had never lived" has now been dramatically eclipsed by this amazing story of mystery and adventure. It is as if he had been invented by G. K. Chesterton and given posthumous fame by John le Carré – which underlines the extraordinary accomplishment of his actual biographer Henry Hemming." Sir Michael Holroyd