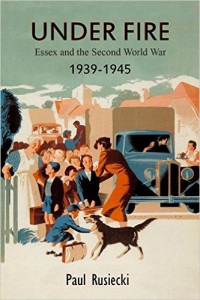 A FASCINATING LOCAL TALK by PAUL RUSIECKI
on Thursday 24th September, 2015
at Walton and Frinton Yacht Club – 6.30pm for 7pm.
Please join us to hear Paul Rusiecki talk about his latest book: Under Fire: Essex and the Second World War, a meticulous study of the impact of total war on the civilian population of Essex between 1939 and 1945. In the book, Rusiecki examines how people coped with the immense stress caused by heavy bombing, the fear of invasion and other anxieties whilst so much was demanded of them by the authorities. The book brings into focus the social, economic, political and religious strains caused by the war.
Tickets are just £5, redeemable against the book which retails at £18.99.
For more information – please see out EVENTS page.