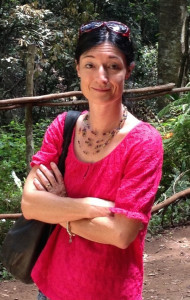 Join us to welcome debut author Clár Ní Chonghaile 
to Frinton
on Thursday 11th February 2016
at Café 19 at 7pm
Clár has worked as a journalist for over 20 years and has lived in Madrid, Paris, the Ivory Coast, Senegal and Kenya. Whilst in
Nairobi, she freelanced for the Guardian and travelled to Somalia to cover the African Union's battle against al Shabaab and the plight of
thousands of displaced people.
Her debut thriller Fractured is a very topical novel that will appeal to fans of Homeland and those interested in political thrillers.  The novel covers issues including Islamic fundamentalists, questions the motivations of extremists and deals with the theme of captivity, which unfortunately resonates all too clearly because of the increasingly frequent use of hostages for political purposes.  The novel takes place in Somalia, a country that has found itself pushed onto front pages for all the wrong reasons.
For a synopsis of the novel, please go to our Events Page, where you will also find Café 19's delicious menu!