We are delighted to announce that we will be launching a new jewellery range
on
Thursday 27th April in the Shop between 6 and 7.30pm.
Join us for a glass of wine with the jeweller, Carmen Palop, and be the first to see her beautiful range of contemporary silver designs.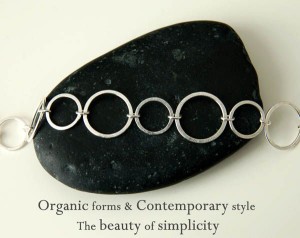 Carmen was born in Valencia on the eastern coast of Spain. Since 2001 she has been living in Norwich, U.K. where she began silver-smithing. Her passion for silver craft has developed as a journey of experimentation and discovery into the raw beauty of the metal. Her ambition is to expose the core of silver in a way it can complement and enhance the wearer in any situation.
Carmen produces her designer jewellery in her workshop in Norwich using the highest quality 925 Sterling silver, semi-precious stones and fresh-water pearls.
"My aim is to create unique, simple and organic forms in a contemporary style, whilst keeping a timeless feel. I believe less is more and try to focus on the simplicity of each piece, finishing the jewellery with textured matt surfaces and scratches that result in a greater reflection of the light. By the very nature of how the pieces are created, every piece is slightly different"