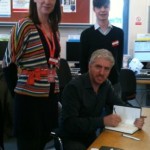 Anthony McCarten had the audience at West Mersea Library entralled as he read from his brilliant new novel 'Brillance' as part of the Essex Book Festival.  The book is a fictional account of Thomas Edison's relationship with J P Morgan, which Anthony spent years researching.  His vivid description of J P Morgan's famous nose really is a must read!!
Two further events we will be doing as part of the Festival are:
Jaywick Martello Tower on Saturday 17th March at 7pm to hear Frances Wilson talk about her latest book 'How to Survivie the Titanic or the sinking of J Bruce Ismay'
Harwich Library on Wednesday 28th March at 2pm to hear Clare Morrall talk about her latest novel The Roundabout Man.
Please see www.essexbookfestival.org.uk for full details of all the wonderful events going on all over the county.