We had a fantastic time last Friday at Hamford Primary Academy celebrating the opening of their amazing new library.  We took two awesome authors – Christopher William Hill and Billy Coughlan – who between them entertained the whole school with their interactive stories and insights into the art of story writing.
Christopher was talking about his Tales from Schwartzgarten series of 4 books:  Osbert the Avenger, The Woebegone Twins, The Lily-livered Prince and the most recent book Marius and the Band of Blood which was published just last week.  According to The Times, 'fans of Roald Dahl, Chris Priestly and Lemony Snicket will savour every gruesome drop of this stylish, grisly and original comedy.'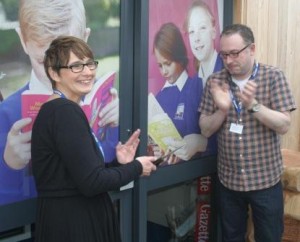 Meanwhile, Billy was talking about her very first picture book – Not without my Whale – which was published in September.  This is a wonderful story about a little boy who is anxious about going to school until a lovely friend helps him overcome his fears, with a lot of fun along the way!
Christopher and Billy were then delighted to be invited to cut the ribbon for the opening ceremony of the fabulous new Library.
A huge big thank you to both of them from us and all the staff and students at Hamford Primary Academy for making their day super special!