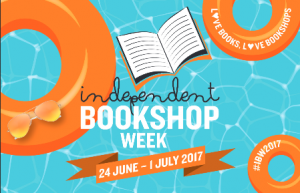 Independent Bookshop Week begins on Saturday 24th June so to celebrate we are once again holding our annual
Book Club Summer Garden Party
on Friday 23rd  June 2017 – 6.30 for 7pm.
Tickets are £15 which includes a glass of prosecco, canapes and one of the authors' books
Two excellent authors of superb historical fiction will be joining us from Bloomsbury Publishing: Natasha Pulley and  Paul M M Cooper.
Natasha's debut novel The Watchmaker of Filigree Street was published to huge acclaim, she will also be talking about her latest novel The Bedlam Stacks due to published in July this year.
Paul has written for magazines and websites and as an editor and journalist.  According to The Times  his first novel River of Ink is what historical fiction should be: 'immersive, illuminating and captivating'.
For more information about their work – please see our Events page.